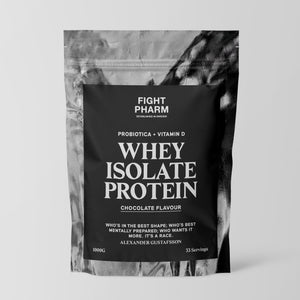 Isolated whey protein that maximizes protein synthesis in the muscle during exercise.

Contains vitamin D and lactic acid bacteria.

High quality protein source sweetened with stevia.
Isolated whey protein from high quality sources. Whey protein is the protein source proven to have the greatest effect on stimulation of protein synthesis and muscle growth associated with exercise. In addition, the product is topped with vitamin D and lactic acid bacteria. To counteract vitamin D deficiency, which can occur when consuming low calorie foods and in low sunlight, it can ensure good muscle function. Fight Pharm Whey Protein Isolate is free from lactose and gluten and has a high protein content. The protein supplement is sweetened with steviaglycosides (stevia) for a mild and natural sweetness.

*% (EU) no. 1169/2011 Daily reference intake (dri). ** Contains naturally occurring sugars.
Detailed Content Declaration
Vitamins / Minerals per serving
Vitamin D (Chocolicalsiferol) 7,5ug (150%*)
Vitamin B3 Niacin/Niacina (Nicotinamide) 32mg (200%*)
Zink Zinc/Zinco/sinkko 15mg (150%*)
Lactic acid bacteria 4.000.000.000 (8x109) per 100g